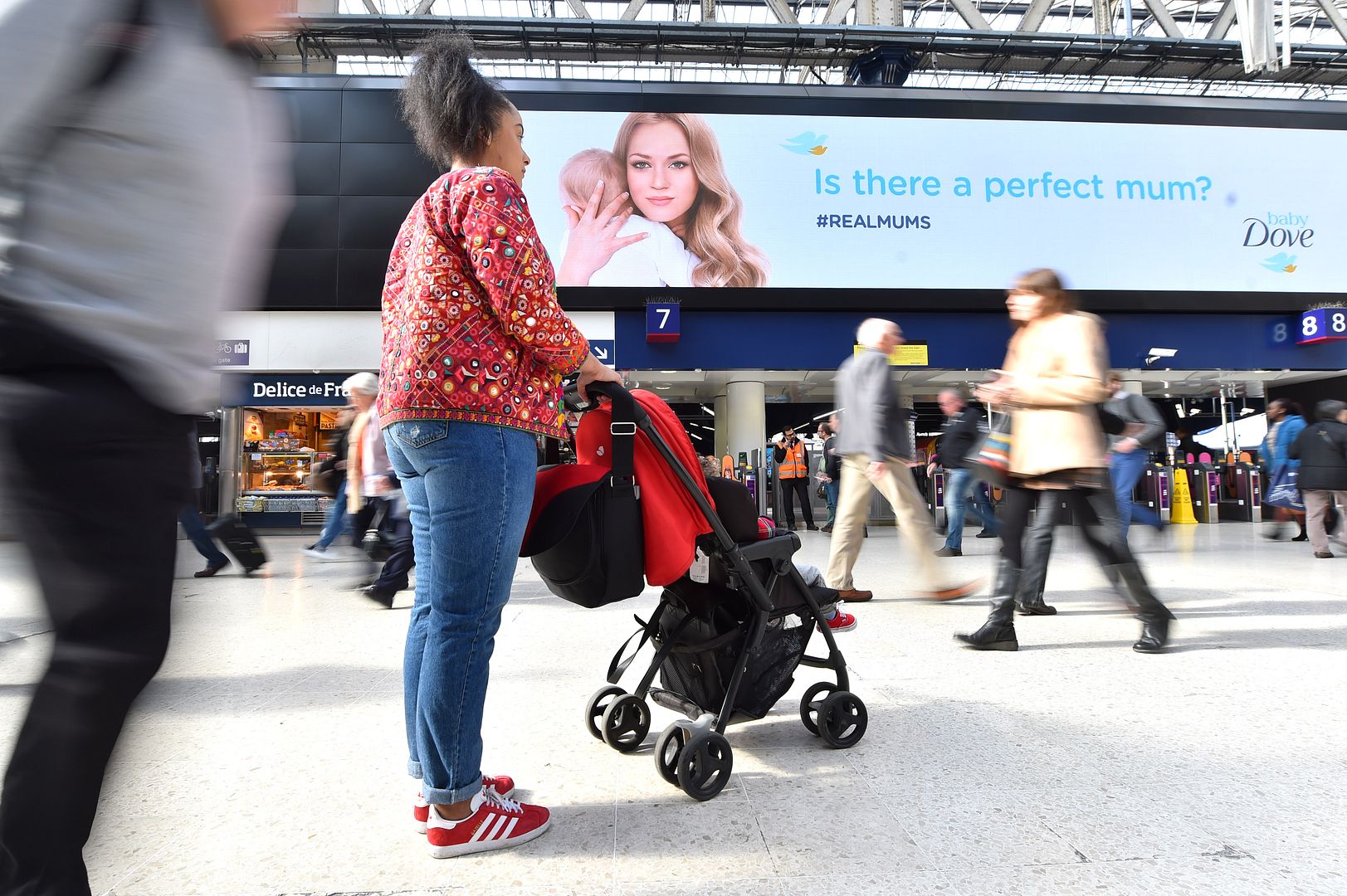 This post was created In Association With Baby Dove.
Picture this, you're on your way into work rushing through Waterloo Station after yet another tearful nursery drop off, burdened by that dreaded mum guilt. Then you're greeted with the shining image of the "perfect mum" - this was me yesterday! - It touched a nerve to be asked 'Is there a perfect mum? when I was feeling anything but perfect.



Thankfully this was a really clever experiment by Baby Dove, to highlight the myth of a perfect mum.

The spookily flawless 'Perfect Mum', was maybe a little too composed and confident. Wide-awake green eyes; unblemished skin, and not a single blonde hair out of place. She was revealed to the public at Waterloo Station in London and on social media, and she quickly got mamas talking!


Today, Baby Dove is revealing that the 'Perfect Mum' image isn't real.

In fact, she isn't even human! Her face was created using the very latest Artificial Intelligence technology based on the images of motherhood that new mums are exposed to every day.



The experiment was conducted in response to national research of 3,000 first-time British mums. Baby Dove found that 9 out of 10 first time mums feel the pressure to be perfect, with images portrayed in the media and social media being the leading cause. I can hold my hands up and admit to flicking through glossy magazines and Instagram (during a stressful 2am night feed) and seeing celebrity mama's looking amazing and seeming like they have it all together, and wishing I could be like them.


The trouble sometimes with social media and magazines is they often give you the filtered version of motherhood. How often do you agonize over uploading that perfect image to Instagram, ensuring that moment in time looks perfect? Okay maybe just me then! But that's just it those images are snapshots, brief, highly edited moments designed to entice.
The modern mama comes in all shapes, shades and sizes but the common denominator is confidence. We want to see and hear messages the boost us, give's us a pat on the back while saying "well done mama you got this!"
Baby Dove's mission is to help ease the pressure and anxiety new mum feel, and I feel this is what I need from a brand.
I'll admit as a first time mama I felt the pressure to be a perfect mum. I remember looking down at my Little Gray with a heart filled with love and a head filled with worry. Like every mum I wanted to give him the best and to me the best seemed like perfection.
Over time I've come to realise that Gray doesn't need perfection and neither do I. What we both need is to find our own rhythm, our own way and feel confident in it.

I love the ethos of the new Baby Dove range "happy mama, happy baby" because when all is said and done that's what counts.

Now over to you do you ever feel the pressure to be a "perfect mum"?
To find out more about Baby Dove, visit Baby Dove.
*Research by Baby Dove from 13th February – 21stFebruary 2017 of a survey size of 3001 first-time mums