I'll admit it I'm pretty Nosey and love a good root around other peoples makeup bags. I find it really inspiring. It gives me ideas on products I need to try out. I figured seeing as I'm such a fan of this type of post I'd go ahead and share the contents of my makeup bag with you!
My current makeup bag is from none other than Primark. I quite like that it's faux leather on the outside which makes it easy to wipe clean. I'm also a huge fan of anything striped and monochrome - the phrase two birds one stone comes to mind!
L'Oreal Brow Artist Genius is a new purchase. I'd previously been using HD Brows and thought it was brilliant but when it finished I found it tricky to track it down again. So L'Oreal stepped in and nicely filled my brow gap (quite literally too). I love this product the packaging it's clean and simple to open - no fuss. The product itself is comprised of a wax and powder and there are also a few handy tools in there if you need to tweeze a stray hair on the go.
Nars Creamy Concealer is a long standing favourite, I don't think I'll ever permanently stray. Yeah sure I may dabble with other concealers from time to time but it's Nars that truly has my heart. Banishing those dark circles from my very tired mama eyes, and blurring imperfections like a pro it's not cakey and the handy applicator makes it a perfect travel companion. I'm also a huge fan of the Nars contour compact the mirror is a nice size for on the go and comprises of a highlight and contour that are beautifully milled and feel incredibly lightweight on.
L'Oreal True Match is another new addition (there may have been a 3 for 2 deal on in Boots and I may have taken full advantage!) I was inspired to give the True Match range a try after seeing the advert on Instagram. I'm all about seeing more diversity in the beauty industry and as a woman of colour it's often tricky to find foundation to match my skin tone. So when I noticed that L'Oreal were actively celebrating and promoting diversity I had to try True Match. As far as foundations go it does not disappoint. It feels really light weight and has good coverage. The packaging doesn't scream luxury but it's not a high end product, that said the pump is reliable producing just the right amount of product with no mess.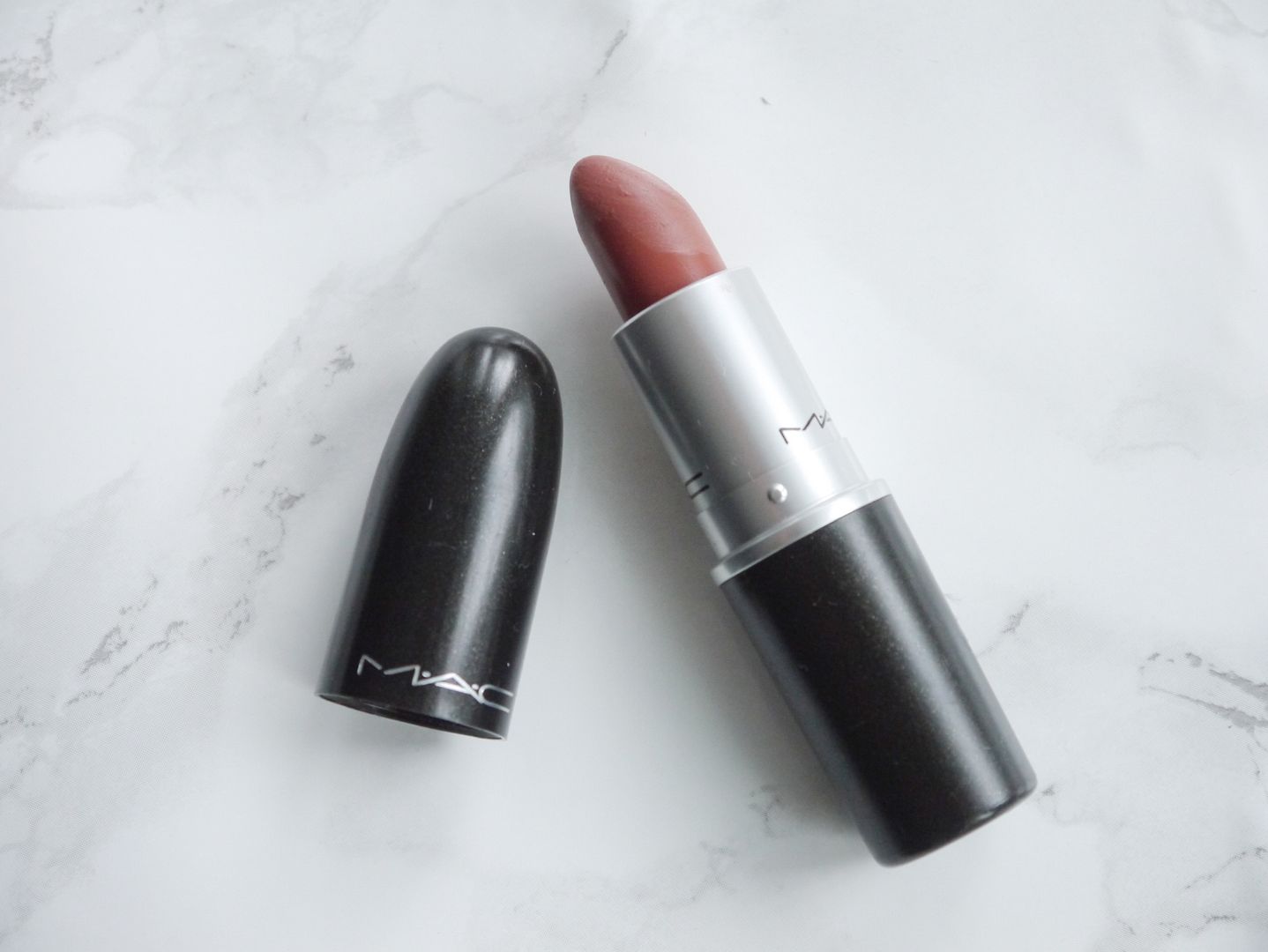 Mac Matte Lipstick In Taupe is literally "your lips but better" it's the perfect shade of brown for me and isn't especially drying on the lips. I feel like it kind of has a 90's vibe which I really love.
I always come back to Maybelline for mascara I just seem to get on really well with their formula's. Right now I'm really into the Falsies Push Up Drama. It's a brilliant formula, a true black lots of drama and really thickens and lengthens my lashes.
Kat Von D Tattoo Liner has revolutionised my winged eye liner game no longer am I the chick with the dodgy line. They may not always perfectly match but they sure are sharp. The easy to use pen feels like second nature, it's also really long lasting with good pigmentation giving you that dramatic black flick.
Sleek do the best blushers they have a great selection of shades are super pigmented with just the right amount of sheen to make your cheeks pop.
When it comes to brushes I keep things pretty simple and generally stick with real techniques I hate cleaning brushes so have two main ones I use regularly. The expert face buffing brush which I use to apply both my concealer and foundation and the blush brush. Real Techniques are on pretty much every beauty blogger's radar and for good reason they're great quality, affordable, cruelty free and have a brush for pretty much every part of your face.
Get The Look
Some Alternatives

That's pretty much it, everything I'm currently carting round in my makeup bag. I hope you've enjoyed this sneak peek into may makeup bag let me know what makeup products you're loving right now.