I do love a good weekly round up post so decided to start a regular feature The Sunday edit where I'll be sharing snippets of my weekly obsessions.
Watching
Love Island is my absolute guilty pleasure I know I'm not the only one when 9pm rolls round and I check my Twitter time line it's all anyone is talking about. I can't help but get totally absorbed in the drama who's kissing who, will Malin return, Zara losing her crown and Adams cheesy metaphors! Seriously though I can't get enough.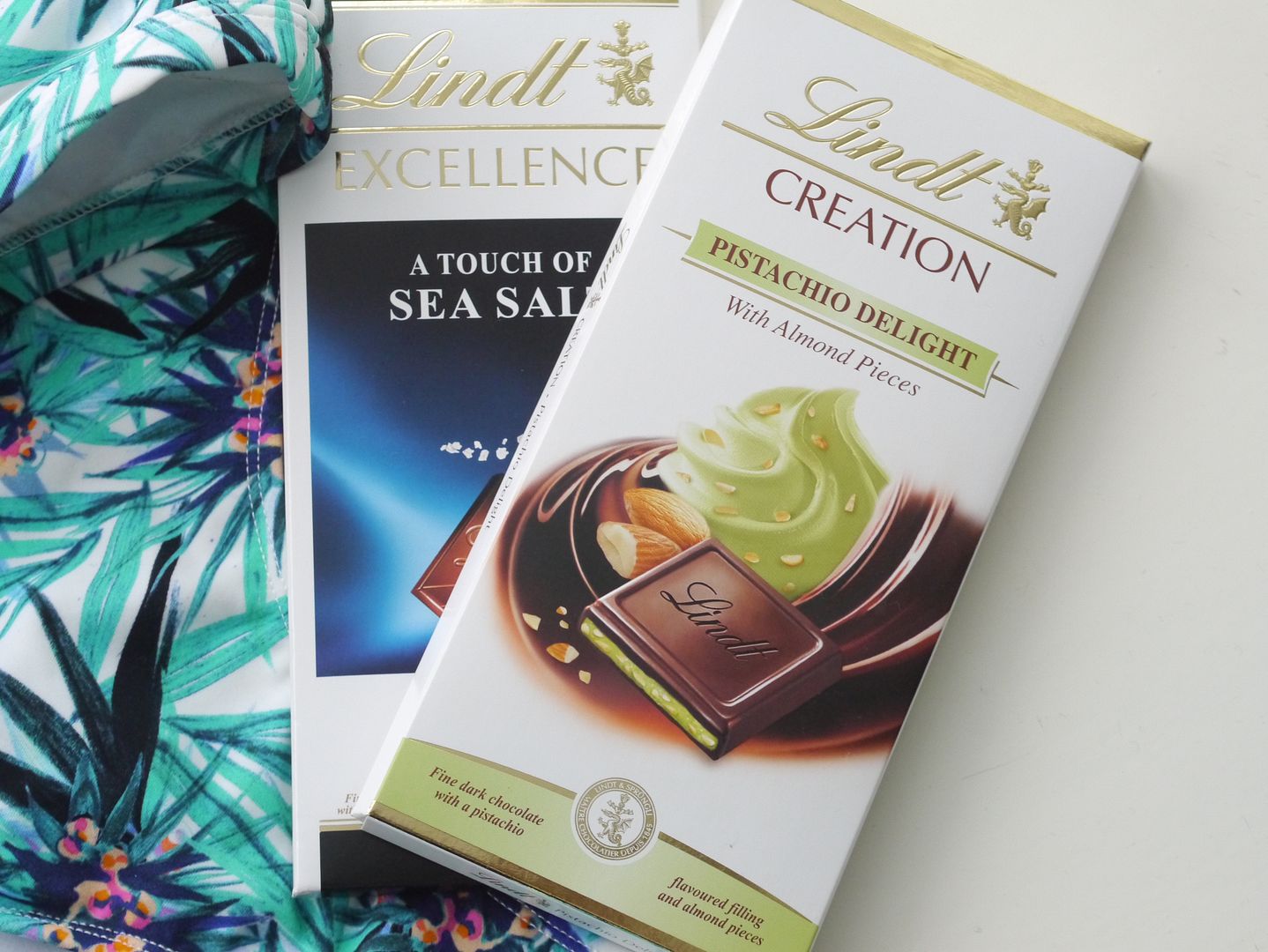 Eating
Lindt Excellence A Touch of Sea Salt and the Lindt Creation Pistachio Delight have been consumed in ridiculous quantities. And yes I'm all about eating them together in one giant chocolaty (a tad sickly) mouthful. I'm meant to be on a bikini body diet but I have the will power of a nat oh well!
Wearing
Technically I've not worn this cracking ASOS bikini out, out yet. More a try on countless times at home kind of thing. I'm fast becoming a fan of high waisted bikini's. Remember that diet I was failing at? Well this is a stylish solution to my issues. The high waisted feature covers a multitude of sins while pinching me in giving the appearance of an hour glass silhouette around my midriff. There's also a fab lace up detail on the back that very on trend.
Reading
As a new mum I'm constantly looking for tips and reassurance that I'm doing the right thing. Your Baby Week By Week
has been my baby buddy. I've loved being able to read week by week about babies development. The thing I love is that this book doesn't only cover tips for babba's but it looks at Mums postpartum well being too.
Super Facialist by Una Brennan has been a recent discovery. I'm loving the Rose Hydrate range especially the cleanser and facial scrub. Both are incredibly hydrating, smell brilliant and leave my skin feeling lit it's a a mini facial. I'm also really digging the Vitamin C brightening Skin Renew Cleansing Oil. I've been using it to remove makeup, it's great at breaking down stubborn mascara and matt lipstick without leaving my sin feeling stripped.