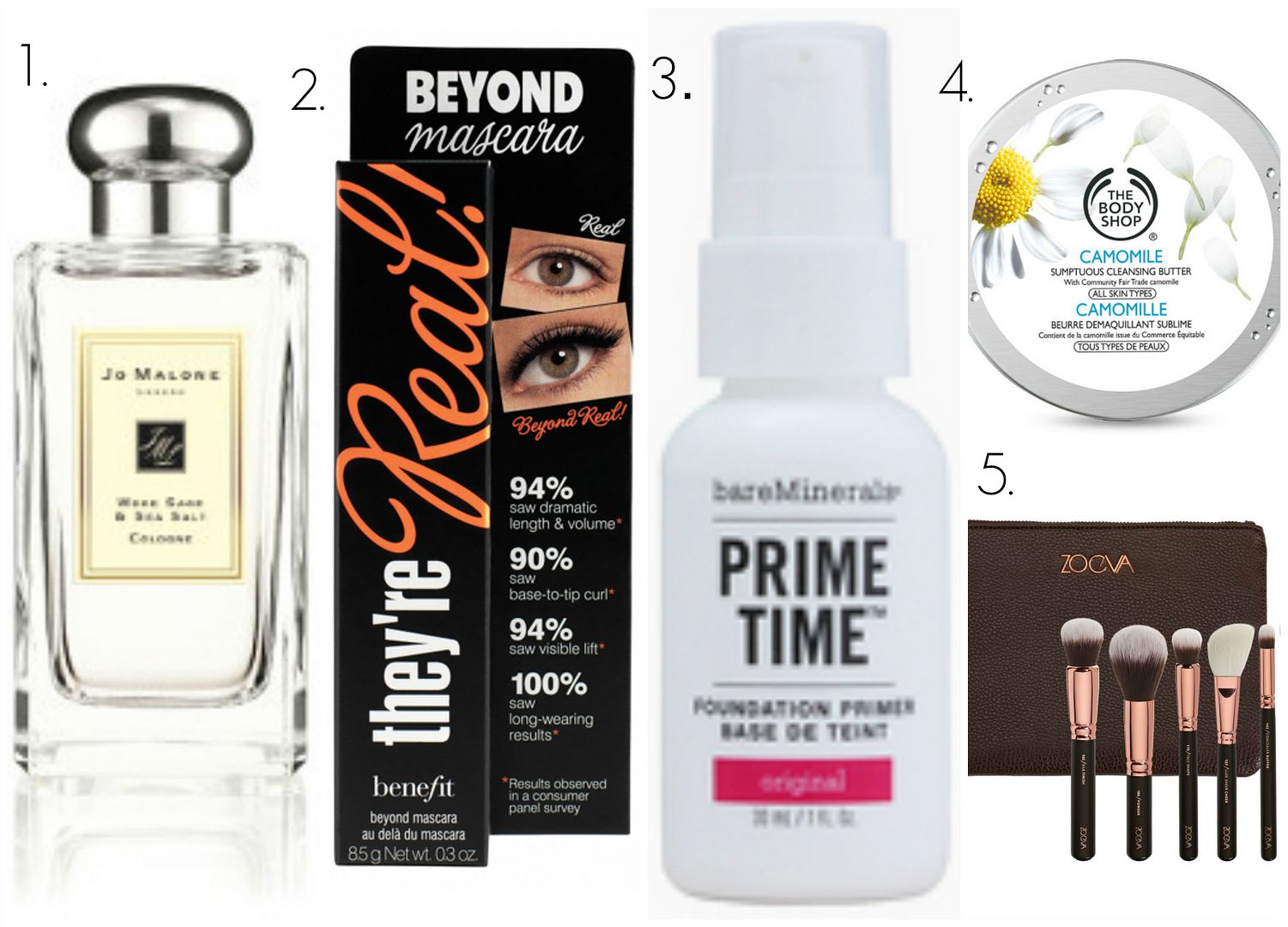 1. Jo Malone Wood Sage & Sea Salt | 2. Benefit They're Real | 3.Bare Minerals Primer | 4. Body Shop Camomile Cleansing Balm | 5. Zoeva Rose Gold Brushes
With pay day looming I've had my eye on a few beauty products I'd like to try. I'm a huge Jo Malone fan I could spend forever in the store taking in the beautiful scents. I love everything about the brand from the quality products to the chic packaging. That said I'm yet to try the newest fragrance in the Jo Malone clan, Wood Sage and sea Salt, it's right up there on my "must try" list.
Benefit They're Real claim to be the number 1 selling mascara in the UK a pretty bold statement I know but it's got me interested and I really want to give it a try. I know I'm a little late to the party on this one but there's been so much hype around this product that I feel like I'm missing out by not giving it a go.
I'm currently obsessed with the Laura Mercier Primer but I'm about to run out and was thinking it would be nice to try something a little different I've tried a few Bare Minerals products before and have really enjoyed them. I've got high expectations for the Primer, anything that promises to give me a silky smooth base while neutralising the appearance of uneven skin is a winner in my book.
One of my resolutions for this year is to develop a beauty routine. I recently watch a Lisa Eldridge video on cleansing balms where she mentioned the Body Shop cleansing butter. I've been a die hard body shop girl since my early teens, combine this with the backing of Beauty Guru/ Makeup Queen Lisa Eldridge makes a sure fire winner.
I was annoyed with myself that I didn't put the Zoeva brushes on my makeup Christmas wish list last year. Wanting to reconcile that fact, I'm planning on splurging on these soon. Everything about them screams Lux but without the price tag.
So I've shared my beauty Wish List with you, now it's your turn what items are you hoping to add to your collection this month?