I'm having a bit of a double minded moment about London Fashion Week. Every year I'm super exited to see what my favourite designers have to offer up. Yet I'm disappointed that I wasn't there to see it in the flesh. I always make an inner promise to myself "next year I'll go, next year" unfortunately so far this hasn't happened - yet! Anyway my lack of attendance aside I have been keeping track of the collections (all I can say is thank God for the Internet - seriously where would we be without it?) and emerging trends for SS14. I thought I would bring you my person favourites so far.
Classic white is not out of place for spring but it seems this year lots of designers were getting involved. White was everywhere; from lace to cotton, to tulle to jacquard fabrics. Designers like Erdem, Osman, Anotnio Berardi and Pringle to name a few featured white as part of their collections.
Traditional cuts and shapes being paired with soft textures in a range of bold colours creates a very wearable trend. Special nod to Holly Fullerton, Burberry, Topshop Unique and House of Holland for being front runners with this trend.
Strong structured shapes and silhouettes in an array of colours, patterns and fabrics make for a very directional trend taking hints from every decade from the 40's to the 90's. Emilia Wickstead, Preen, Alice Temperly, Perter Pilotto and Mary Katrantzou all featured bold and directional shapes in their collection from coats to skirts to dresses.
This season there seemed to be a plethora of prints I especially loved the more graphic styles I would expect nothing less from Mary Katranzou however even brands like Duro, Felder Felder, Preen, Giles and Pringle got on board all with stunning results.
It wouldn't be spring without floral's right? I'm convinced theirs a rule book somewhere that mentions this. The big gun of floral (and to be honest boho) Matthew Williamson was out in force along with Johnathan Saunders who had beautiful sheer floral shirts that seemed to strike the balance of feminine and sexy just right. I for one will absolutely be dabbling in this trend come next spring.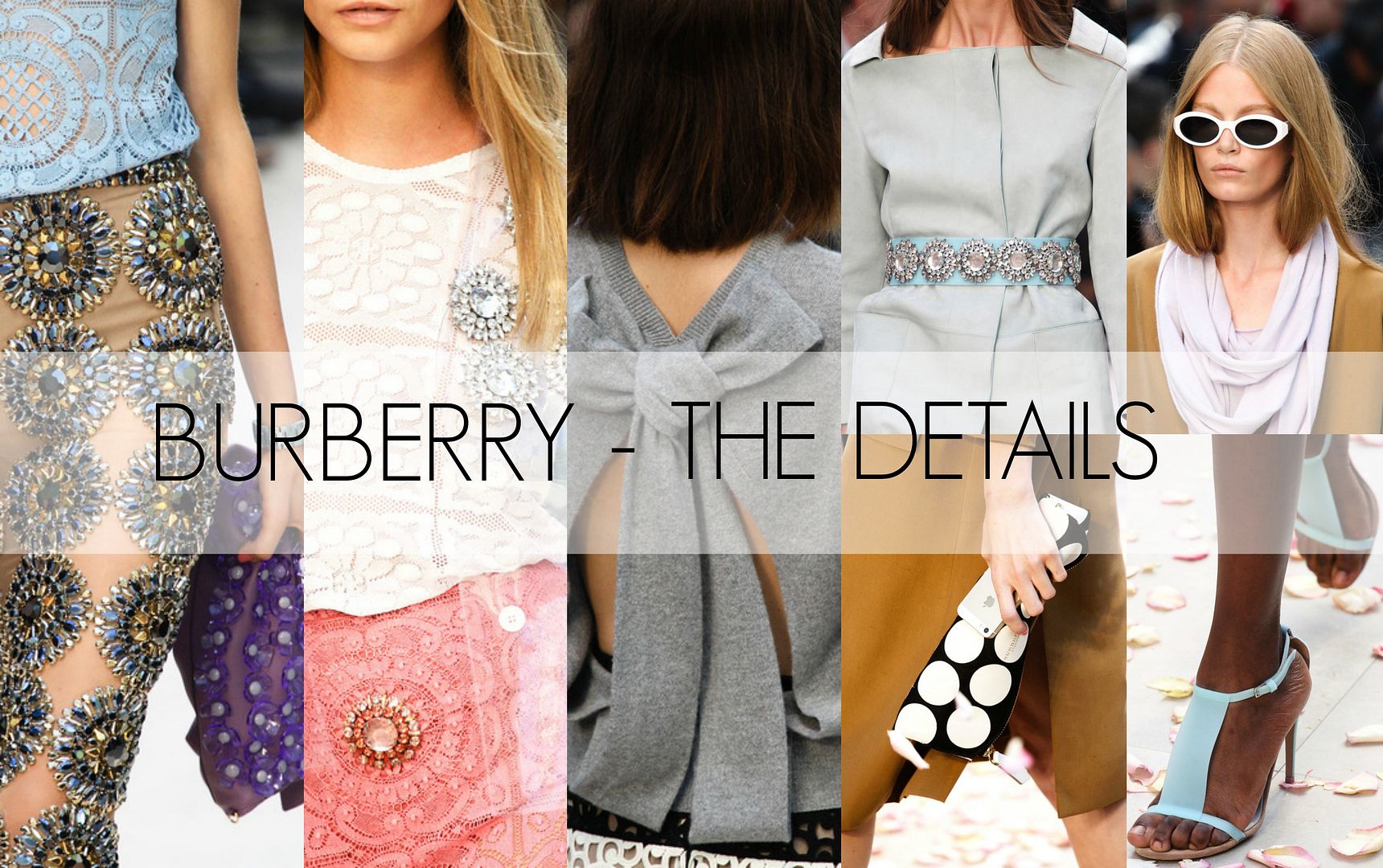 Before I go can we take a moment to appreciate the pure brilliance that is Christopher Bailey. The Burberry Prorsum show is always hotly anticipated with fashion big wigs taking pride of place on the "frow". It's also one of my favourite shows, last year we were wowed with metallic Jewell toned trench coats this year I was in a daze by the soft feminine lace textures. Anyone else with me and slightly in awe of Burberry this season?
Keep your eyes peeled as this is only the first instalment of my LFW highlights the beauty and street style edits are still to come!