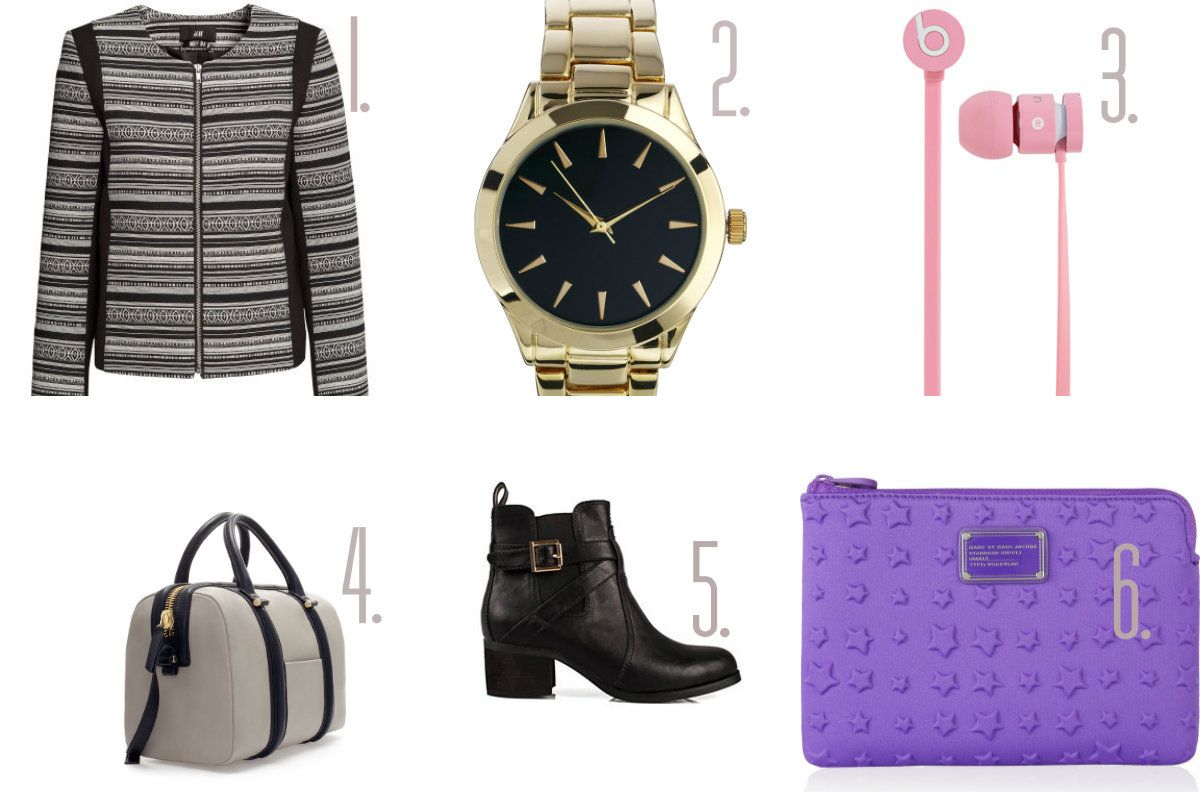 I'm currently having a few days off work, and like the most of the country looking forward to the bank holiday weekend. However all good things must come to end and I'm afraid that includes long weekends. With the back to work blues looming on the horizon, I thought I would do a cheeky wish list post to cheer us up.
Good old faithful H&M. You never fail to supply me with suitably chic and affordable wardrobe staples. This cute little jacket is no exception. I can see you now as a great transition pice for the days when it's not exactly warm, yet not too cold either. Then layering you up under a cosy winter coat when things get really chilly. Pay day is only next week so I'm sure we'll be seeing each other very soon.
Recently I had to say goodbye to my favourite watch, since then I've been on the lookout for a replacement. I'm thinking this ASOS baby could make the cut.
I am an advertising agencies dream put it the telly with a glossy advert and snazzy beat chances are I will want it. I'm fully aware of this issue and takes the necessary steps to address it i.e. telling myself NO! Yet I'm still so tempted by these pink Beats headphones. I've been telling myself that quality headphones are an absolute must for every commuter.
Every season Zara debuts a new "it bag" that balances perfectly on every bloggers arm. Last season it was the city bag, which I freely admit I am guilty of possessing, before that it was the bucket bag. This time I have no idea what the new it bag will be, but what I do know is how much I love this bowling bag. It looks like the perfect size for all my essentials and the non essential receipt hoarding and extra lip glosses that I think will be useful but actually don't need.
When planning this post I was adamant that I needed to include a pair of heels regardless of how impractical they are for the mad dash across the platform to catch a train or standing on the escalators. However during my search for these elusive heels I came across these ankle boots from Nelly. I tried to fight it, I really did it was love at first sight, we were meant to be. Quite literally every cliche jumped out at me and screamed buy me! There is now an internal war going on to buy or not to buy? I know it's a loosing battle I'll probably buy!
I've heard (don't ask me where as I have no idea) every discerning city girl has an iPad. I figured if thats the case you're going to need a slick case to keep said ipad warm. I'm thinking this Marc by Marc Jacobs case is the perfect companion, don't you think?
PS don't forget to enter my ASOS & Yankee Candle give away click
here
for details and the widget below to enter!
a Rafflecopter giveaway