I'd like to start by saying, this chick's got style!
Paloma faith can sing, she's an amazing song writer and great performer, oh did I mention she's got style? I think I feel another style crush coming on!
Usually my music Monday posts are all about the music, but this week style has taken the lead. I do love Paloma Faith's music but it's her style that really has me hooked. Her signature look is vintage 40's and 50's all the way, cinched in at the waist and high heels are her thing.
I can't talk about Paloma's style without mentioning her love affair with head gear. This girl really knows how to rock a hat. The more elaborate and out there the better. I'm now waiting with bated breath for a designer or high street brand to collaborate with this songstress on a fashion line.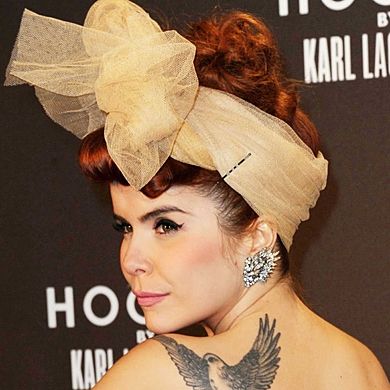 So just to prove this is a music Monday post, what do you think of her "never tear us apart" song? I love it! It's got a really dramatic, retro vibe to it - very Paloma. If your thinking you've heard it before then your right, it's currently featured on the John Lewis advert. To round off, this girl's the full package, a fabulously kitsch sense of style, impish sense of humour (check out the interview video) and a wonderfully soulful voice.