This is one of my favourite quick meals to whip up. It's great as either a lunch time bite or a light evening meal. I love cooking but get bored if I have to spend to much time in the kitchen, so quick meals like this are right up my street.
Ingredients - Chili and Lime Chicken Skewers serves 4
Chicken breasts x2 packs
Fresh Ginger
Chili x1
Fresh Coriander
Shallot's
1 Lime
1 Lemon
Half a Carrot
Half a small Cumber
Runny Honey
Rice Wine
Olive Oil
Soya Sauce
Oyster Sauce
Fish Sauce
Black Pepper
Either wooden or metal skewers
Start by pre heating the oven at 180 celcius if you're using wooden skewers you will need to leave them to soak in warm water (this stops them from burning while in the oven).
I like to give my chicken a good wash before I cook it, so this is where the lemon comes in handy. Chop the lemon in half and give a good squeeze over your chicken breasts, but be careful of the pips, then wash under the cold tap.
Once I've got my chicken nice and clean, out comes the sharp knife, ready to dice the chicken into strips roughly an inch wide.
Season the chopped chicken with black pepper, a table spoon of roughly chopped fresh coriander ( I like to leave the storks on as it ads texture and flavour). Next grate in the fresh ginger and lime, I also like to get a good squeeze of lime juice in there too. Roughly chop 2 Shallots and 1 chili, if like me you like a bit of heat leave the seeds in, if not take them out, you may want to wear gloves for this bit. At this stage I add a generous table spoon of the following; Oyster Sauce, Fish Sauce and Soya Sauce. Give a good stir to ensure it's well covered in the marinade.
Ok so your going to need to get a bit messy here, but it's all part of the fun. Place the chicken pieces onto the skewers then lay flat in an oven dish. Once this is complete I like to cover my chicken in the remaining marinade. Pop in the pre heated oven for around 20-30min or until golden brown and cooked through.
While the chicken is in the oven the dipping sauce can be made. Roughly chop the carrot, cucumber and chili (again seeds are optional). Add the rice wine vinegar and honey. Now I don't have exact quantities for this bit as I add to taste. If you like it more tangy add more rice wine vinegar but if your more on the sweet side lean more towards the honey.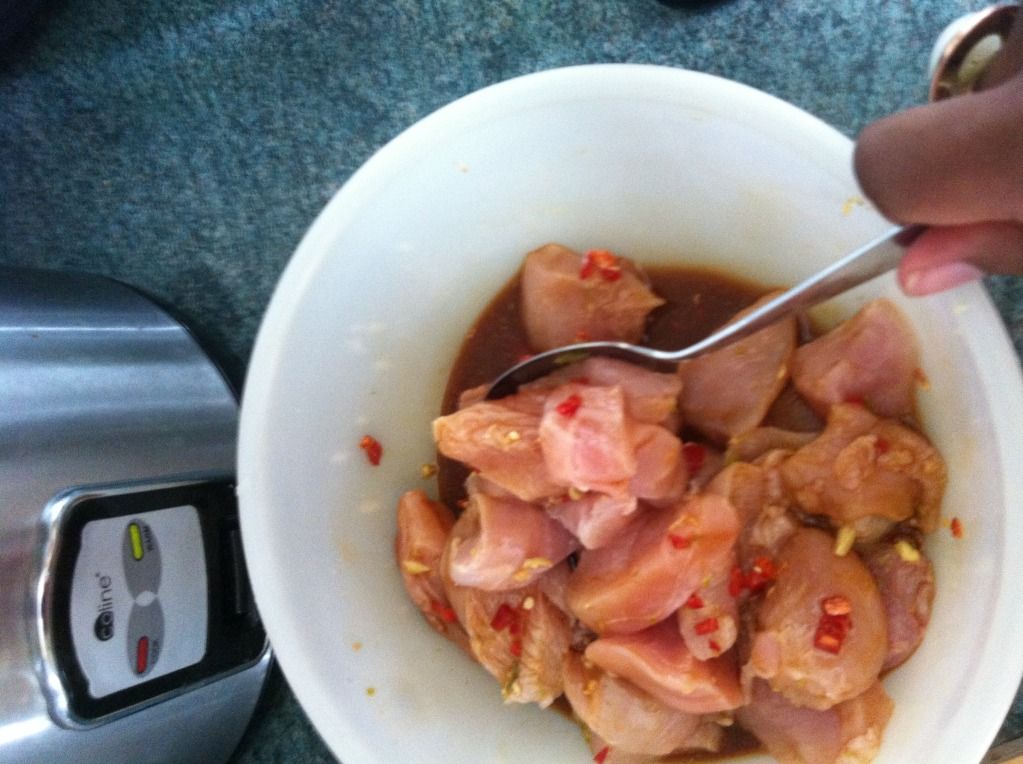 There you have it Chili and Lime Chicken Skewers - yum.